Children are everything for us
"Die Sternchen" ("Little Stars") offers child care specifically geared to the needs of 0–3 and 3–6 year-olds in Heidelberg.
As a family-run, non-profit business with years of child care experience, we can offer a combination of reassuring consistency and openness to new ideas. The nursery dates back to 2003, and the kindergarten was set up in 2013. Over the years, many parents have sent more than one child to us, and their warm recommendations of both nursery and kindergarten are ample proof that their kids – and they themselves – feel at home with us.
Every child is given our individual attention – after all, each of them is a unique personality with particular strengths and interests. Our highly-trained team members carefully identify the children's potential and nurture their abilities.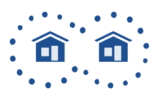 Two locations, one garden

We are based in two beautiful locations: the nursery (0–3 years) is in the historic center of Handschuhsheim, and the kindergarten (3–6 years) is on Schlossberg, in downtown Heidelberg. All the children are looked after by enthusiastic, trained team members, who treat them with loving care and respect throughout their development.
A special highlight for the kids is our garden in Handschuhsheim, which has a playground offering endless scope for fun and games. With its plants and trees, it also provides an opportunity to actively experience the changing seasons. The garden is safely fenced in and located away from traffic, nestling between the Odenwald forest, vineyards and community gardens.